WE FOCUS ON MAKING DISCIPLES OF CHRIST,
NOT FOLLOWERS OF (A/MY) CHURCH OR DENOMINATION
2. Timothy 2:
Thou therefore, my son, be strong in the grace that is in Christ Jesus.
And the things that thou (G1) hast heard of me (Paulus) among many witnesses,
the same commit thou to faithful men (G2), who shall be able to teach others (G3) also.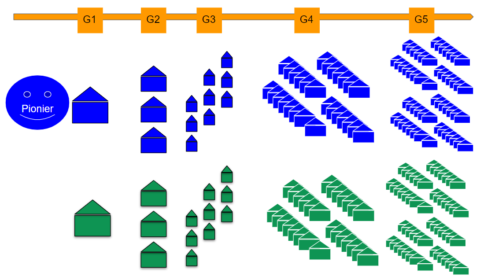 The Bible alone is the only source to learn, by using the DBS (Discover Bible Studies).
Make disciples always with a focus that you ultimately want to reach groups with the Gospel.
Therefore we focus from the start on the entire group.
After weeks / months you can see who is faithful and who can guide.
Workers grow from the harvest.
We strive to plant the Gospel of Jesus Christ and let it transform individuals, families, and communities so that a culturally relevant and redeemed church will emerge.
People make mistakes and are not perfect. they grow by the renewing of the Holy Spirit.
The group is responsible for one another. They learn in the group which is their spiritual family.
We focus on making disciples of Christ, not followers of (a/my) church or denomination.
Jesus taught us to teach these disciples to obey HIS commands, not to my church/denominational doctrines or traditions.
We do our best NOT to transfer our own Christian culture,  denominational terms, or doctrine into the new work.
We do NOT focus on starting churches that adhere to and look like a particular church, denomination, or on doctrinal position.
NOT formalized and institutionalized education process for all leadership.
NOT formal ordination of leadership that qualifies them to lead.
NOT high to strict control of the teaching/preaching ministries of the church and the ordinances of baptism an the Lord's Supper by ordained leaders.
NOT a high focus in some cases on bringing them songbooks/ceremonies or on having a building  that is called "church" and…
NOT a high control of all aspects of church!
These Things are not wrong for Organizations or church. But many of them are extrabiblical and slow church planting in such a way that natural replication cannot happen.
Disciple­Makers thinks and acts different as a denominational church leader (pastor) or employee.
They​ ​realize their culture and religious experience can negatively influence their Disciple­Making unless they are very careful.
Discipleship, as the Discovery Bible study, does not happen without planning and without people who can plan.
use a simple, slightly multiplying method and do not change it.
Follow clear goal as described here!
Communicate these goals (vision) regularly.
People will not follow these goals (vision) otherwise!
RULES AND RESPONSIBILITIES: GUIDELINES FOR TRAININGS 
Please read our Statement about Discipleship on this page.
It's important to understand this statement basically, because it's describes the way we work and what we do.
This rules are majorly for pioniers outside Kenya who want to receive trainings and support to build up a descipleship movement from House to House in their countries and reach unreached.
This guidelines are adiscription of the responsibilities expected from both sides(trainers and the hosts).Both have to take responsibilities and above all they should believe in God's provision.
RESPONSIBILITIES OF TRAINERS AND MASTERTRAINERS -WE ARE RESPONSIBLE FOR:
Investing our quality time and give the fully trainings for free.
Remember: Financial upkeep for our families when we are away.
Trainings-Materials are free available on our Website for download and for print-out.
RESPONSIBILITIES OF THE HOST – YOUR RESPONSIBITIES ARE:
Advance planning of the dates and given timeframe for trainings with us. This is healthy for quality training without straining.
Since you are the hosts, we are the invited guests. We are not responsible for anything concerning provisions of the training in your country.
You are responsible for the whole training budget, including print-outs for participants and if needed meals.
You have to pay all Costs for the trainers while they are in your country for example transport, place to sleep and food.
You as a team or a network, are in generally responsible to run and maintain the quality of the movements in your respective country after trainings. If you need help in this then kindly contact us.
If you have any question/s please let us know.